This is where all of my gaming related posts & videos live!
Have a look and tell me what you think.
You're welcome to join me on my own Minecraft Server! It has plots, creative and mini games!
Now featuring Bed Wars & Cube Runner!
If you're lucky and behave yourself! you may be awarded extra privileges!
The IP address is: 89.145.234.225 or you can use babboland.billyswebsite.co.uk
This sever is for the PC / Java version of Minecraft.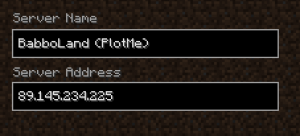 Load Minecraft, go to Multiplayer and add my server IP address!